Usha Jain MD
Dr. Usha Jain is the medical director for the Emergi Care Medical Center  Contact number is 407 876-5555.
Hours of operation 10 am to 6 pm Monday to Friday
11 am to 1 pm on Saturday
12 pm to 1 pm on Sunday
For our services click on the link below:
Dr. Jain is board certified in Emergency Medicine, Anti-Aging and Pediatrics. Our doctor has been with the medical center for last 26 years having worked in the emergency room in Chicago as well as in Orlando at the Orlando Regional Medical Center (1979-1985) before joining Emergi-Care Medical Center. Dr. Jain treats minor emergencies and is well experienced  in family medical care and pediatric care. She specializes in Anti-Aging and Regenerative Medicine which is a new medical speciality in which the disease is treated not only with medicines but also with taking care of the nutritional and hormonal balance.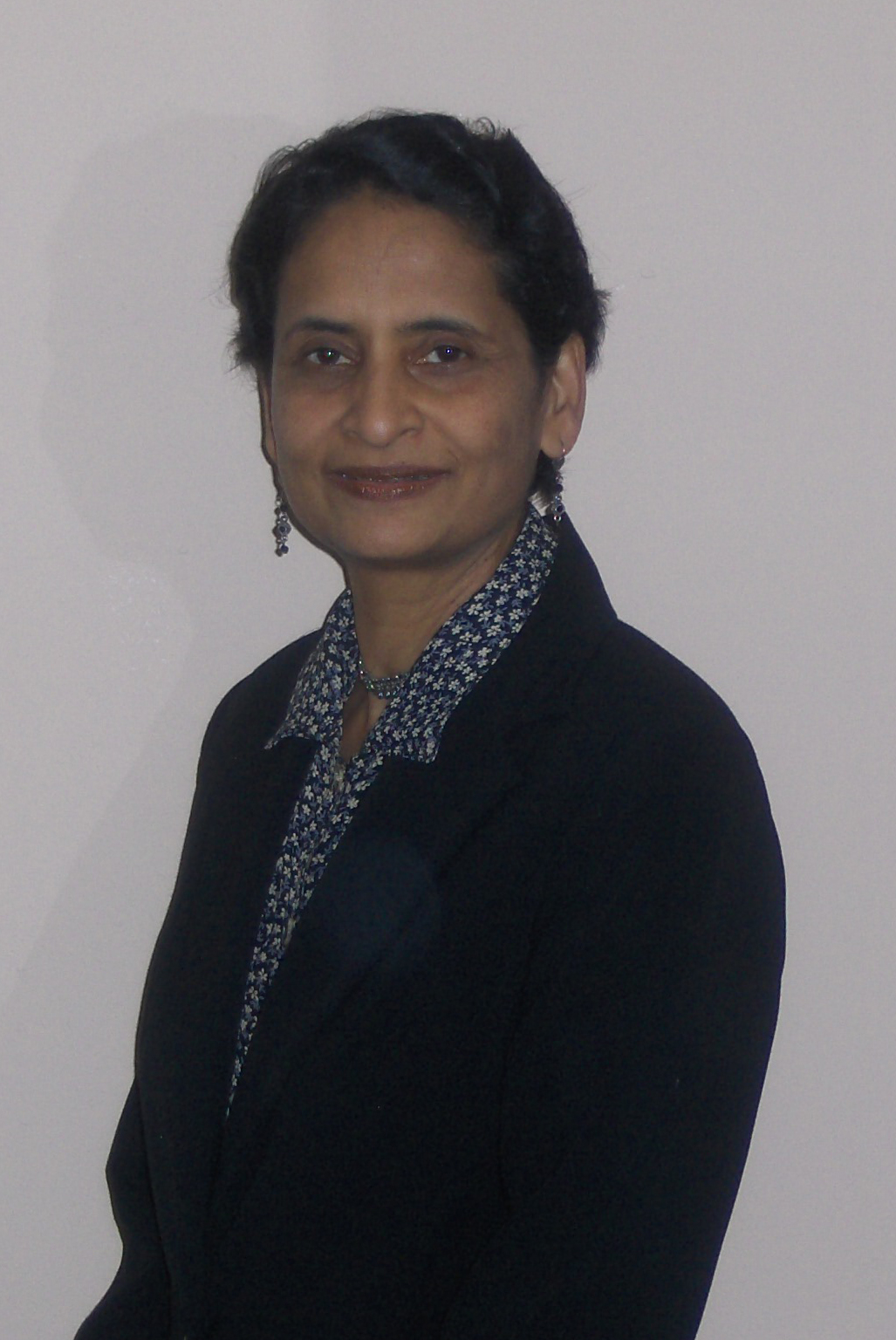 Doctor Usha Jain was born in Mandsaur, India. She received her medical degree from MGM medical college, Indore in India in 1974. She did her internship at Saint Vincent Hospital in Erie, PA 1975 to 1976. Dr. Jain finished her pediatric residency in Chicago in 1978. She worked in the emergency room at Orlando Regional Medical Center from 1979 to 1985. She treated many types of emergencies at the hospital including patients arriving from ambulances and helicopters. She is board certified in Emergency Medicine.
Dr. Jain was recently board certified in a new specialty Anti-Aging and Regenerative medicine. She has been helping patients to get healthy, stay healthy and  young with nutritional and hormonal balance.
She founded the Emergi-Care Walk-In Medical Center in Orlando in 1985.
She has been a researcher in the field of Fluroquinolone and Ketolides. Her cases were published in Emergency Medicine. Dr. Jain is a very dedicated  doctor of medicine.
Medical education is not only for her peers but for the public, this is a passion of hers. Dr. Jain has traveled all over the country including Niagra Falls, Biloxi, Mississippi, San Antonio, Texas lecturing on a variety of health topics in a practical and entertaining way.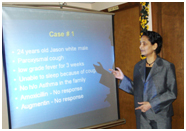 Dr. Jain does aerobic exercise and yoga daily with her husband, Manohar, in a fun and enthusiastic way through music. She says it is good for the body, mind, soul and marriage.

Family is very important when it comes to Dr. Jain. Her husband, Manohar Jain, has attained his Masters in Engineering. She has two beautiful smart daughters, Anju (Dentist) and Sima (Dermatologist).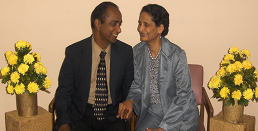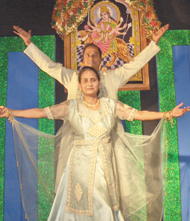 "Music washes away from the soul the dust of everyday life…"
She believes in hard work and that leads to happiness. She has mastered the Jayma move technique going up at the end of her performance. It took three years of dedication to  perfect the technique.  "Success doesn't come to you, you go to it."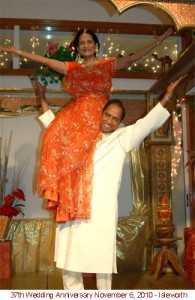 She is Hindu, practices Jain religion truly believes in Non-Violence and Karma. Having good faith will take you far in life…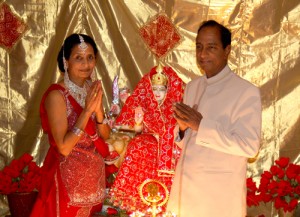 She has many hobbies: Photoshop, video editing, Bollywood dancing and music, sports and art and crafts.
Dr. Jain was born in India (Mandsaur in Madhya Pradesh). Dr. Jain grew up in legal environment as her father Ratanlal Banthia was a well known  attorney in the town of  Mandsaur.  He was known for his honesty and he has record of winning all the cases.  He helped innocent people and fought for them.  Dr. Jain's mother Suhag Banthia was very strong lady with the belief of Karma and  always helped her husband to  take cases and protect honest people. Dr. Jain has strong roots of  believing in karma,  helping people and take a stand for honesty.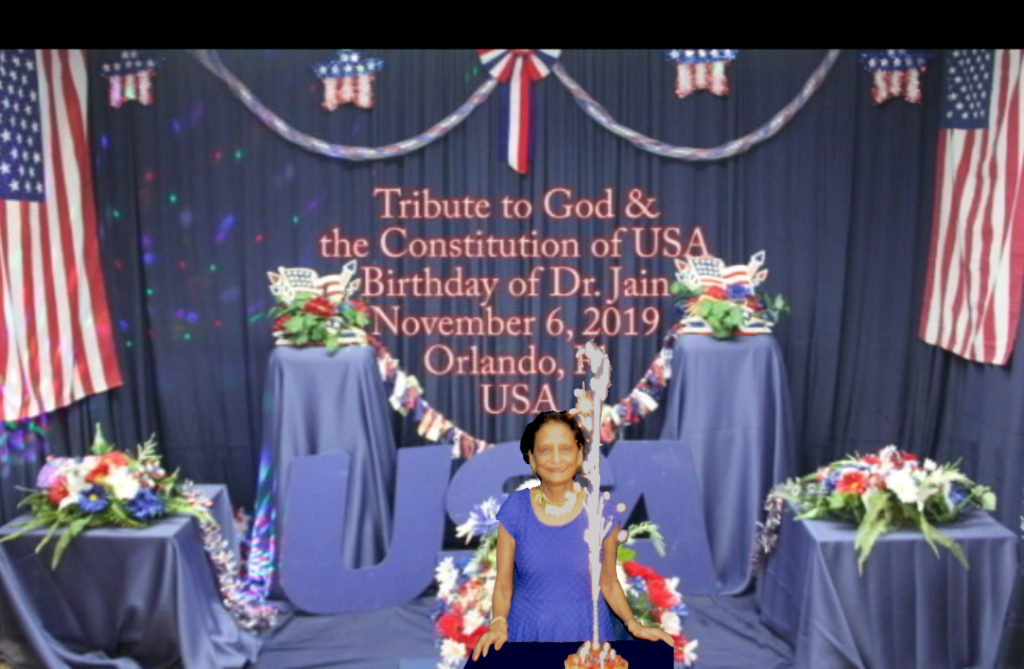 Dr. Usha Jain is a pro-American Citizen and the Constitution of America
Dr. Jain is in America for 45 years and believes that America is the best country whi provides its citizen wh the Constitution where all citizens are treated equally and due process is provided to all the citizens.